Hello all! The Summer Spark Sew-Along Flickr group is heating up! You have until the end of July 4 to upload a photo of your garment to win one of three fabulous prizes: An indie pattern of your choice, seersucker fabric from Sarah or a breezy blue and white fabric from Alessa.
As I said in my last post, I really liked the pace of the sew-along. It helped me focus on what I really wanted to make and also not fall into the glorious, consuming, deep well that is sewing obsession. From now on, I'm going to try and express one monthly intention for my sewing.
Now this has definitely been The Year of the Dress. And though I really want to sew dresses, I really want to wear more separates.
So for my July Intention: I want to sew casual separates. I'd say 1-2 separates, depending on my time. Casual, heat-friendly, muy versatile, and that can be made in a single sitting.
Here's what I'm kicking around:
A Full Chambray Skirt
Inspiration:
I noticed the skirt I've worn most in June has been a swishy knit skirt in black. I'd like to try a woven equivalent with some chambray I've on hand. I'm worried it'll look too stiff so I thought I could play with bias with this stiffer woven. I have this great 70s pattern for a bias skirt with just two pattern pieces.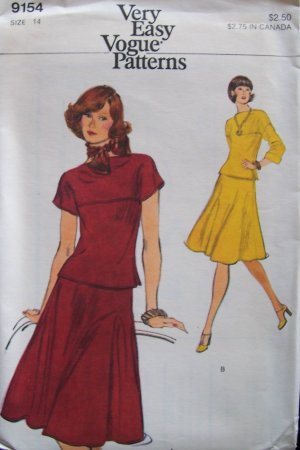 Black Tank Top
One of the me-made garments I've worn most this year is a plain white tank, a combination between Jalie 3024 and my favorite RTW tank. It's so boring I haven't blogged about it, but I've been wanting a version in black.
To speed things up + stretch my skills, I'll finish the armholes and neckline with fold-over elastic using a double needle (which'll be a first!).
I think this'll be a great combo: Black tank + chambray skirt with the bevy of colorful cardigans and scarves I have. But they'll also match nearly all other separates in my closet.
Sewing & Life as Process
Sewing aside, changes are afoot. I just returned from one inspiring conference that has re-prioritized my time and am headed to another on Saturday. As I work on a big project (which could take years) it'll slow down my sewing and blogging. But know this is where I come to unwind, to take a breather from the rest of my life, to be inspired by working with my hands and see others in their own creative journeys. So I'll still be around! :)
But also: Sewing has taught me the importance of learning and process and thoughtfulness and recklessness and community. To grow: 10 stitches forward, 5 stitches ripped back. It's been humbling and exhilarating. I'm finally starting to apply these lessons to the rest of my life.
So thank you all, for your inspiring garments in June. And here's to July!